4/24/18 - Baby Blues
When you read the title of this blog post did you think about my eyes or that I was sad? "Baby Blues" ha ha. I crack myself up some times. I laughed today. Well, big smiles...not really a laugh yet. I had a great day today for what it was. It started out with a nice night with my sweetheart on night shift. She talked to me and we had a really nice night. I missed her. Then, this morning was nice. I did much better for my physical therapy today. I like to do it before the afternoon when I can. Well, when the PT ladies can. I get a little hangry in the afternoons and need my down time. Today though, I sat up with help and stayed up for quite a while. I move my head side to side & up and down quite well now. I stretch my body all by myself some too. I like reaching my arms up...up...until it feels good.
After therapy, I had a little afternoon breakdown and took a little snooze until Mom got here. My Dad got to go back to work today for the season. He does construction. He will be here to see me in a few days; over the weekend. Mom showed me a picture of him at work today with his "A Heart For Heath" shirt on. He's always supporting me. I love him. I like when he visits and has on bright colors. That makes me Peek at him. After I saw Dad's picture and talked with Mom some while she picked at my head lol. She is always picking at me. I have some of that cradle cap stuff and she put oil on it and got it mostly all off me. Babies get that sometimes. After, the ladies gave me a bath. It felt so good. I get lots of baths. I am a sweaty little man my Mom says. I have stuff to do, you know? So, while I was getting cleaned up and my hands were free, I took some time to check out my hands and fingers. What weird things they are?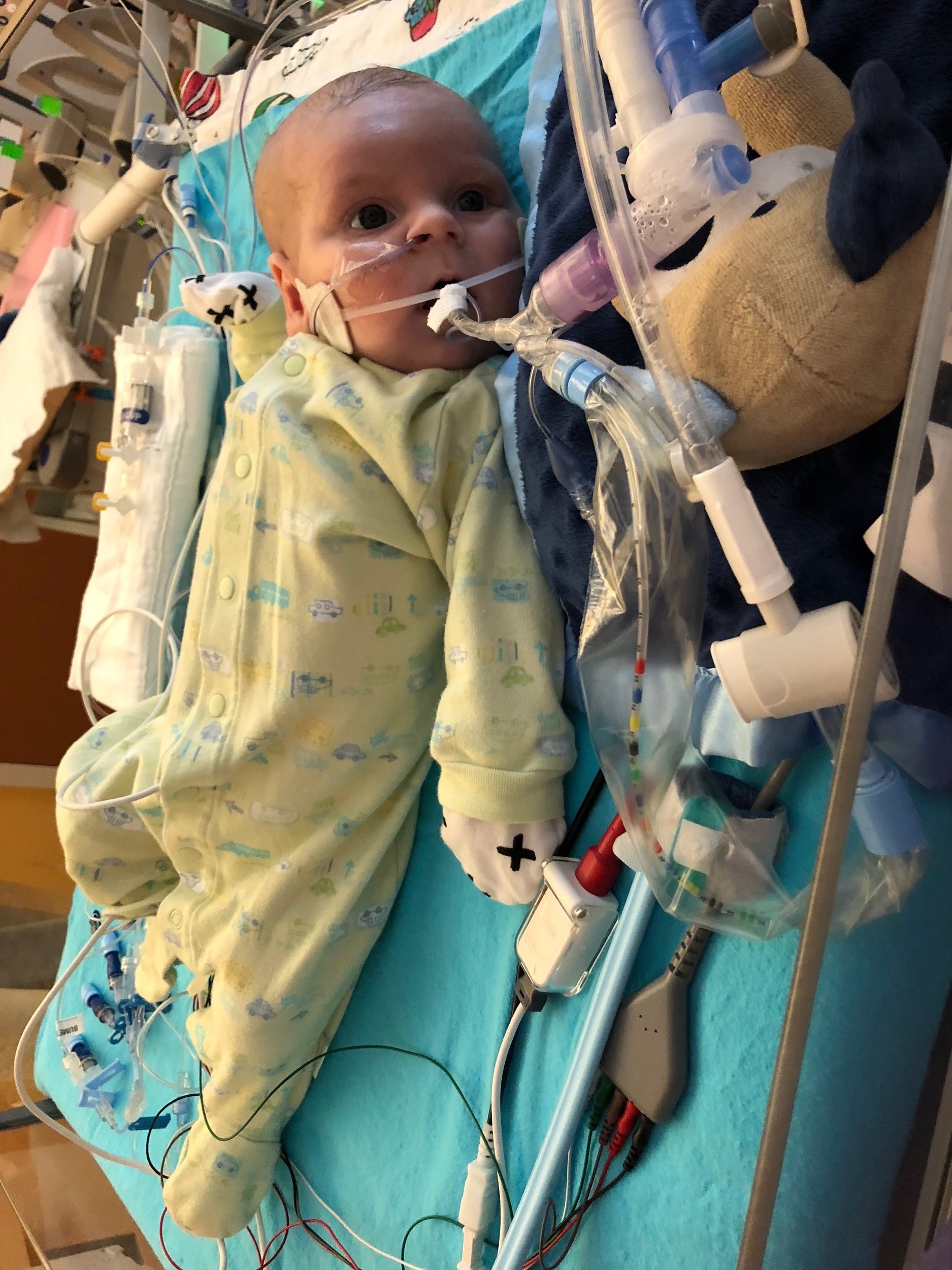 Speaking of fingers!..tomorrow is a big day! I should, if nothing changes and they go thru with everything, be able to put my fingers in my mouth and a nookie, maybe too! The doctors have made the suggestion to move my ventilator tube (the darned thing) from my mouth to my nose. I think I told you that may happen, but we heard today that they may try to do it as early as tomorrow. I'm really hoping for that. I would love to have a little more freedom with my hands and be able to do some more exploring and learning. I'll let you know tomorrow if they did or not. Here are a bunch of pictures from today. I was wide awake and trying extra hard to be chipper. I love the feeling after a bath when I am clean and in fresh clothes. I'm growing. Mom hadn't seen me with my clothes off completely in a while and she couldn't believe how much I have grown the last week. Maybe not as much as you're probably thinking, but the biggest changes in my body lately have been the thickness of my skin. That sounds odd, maybe, but I have been quite thin after having retained and lost several pounds of fluid...so, my skin was thin looking because I lacked the fat and normalcy. Now that I've been more stable and been getting a tiny bit of Mom's milk and the Fats/Lipids thru my lines, I am actually getting a little fat. It's nice to not see my veins and things thru my skin so much anymore. I haven't gain too much weight or gotten too much longer, but I am changing. I am too long for my newborn sized clothes now and I fit best into about 3 months clothing. I can wear the 0-3m and 3-6m, too. We have a bunch of snap up outfits that Mom is washing tonight to bring in for me tomorrow. I like to be dressed, so I'm very happy for that. Hmmm...what else? Oh!! Big suprise tomorrow!! I will show you lots of pictures in my blog tomorrow night. Going to make my room here at the hospital colorful and more homey. Some new friends have made me some very special suprises! Mom and Dad haven't even opened them up yet and are waiting for me to see first. Talk tomorrow!
Please keep praying for me, my family and my someday donor family. Thank you all so much for being the best support I could ever ask for. You get me thru some crazy days. You get my family thru, too.