4/26/18 - A fever & cold Spaghetti-O's
Mom told me it was nice outside today. She explained that "nice" weather where we live is slightly cooler than my bedroom here, but the sun shines down and warms your skin. She said someday she will take me outside to feel a nice day. I am excited for that. Beats laying here all the time. Mom was pretty sad last night and called to check on me a bunch. She worries I get lonely, laying here by myself in this room. She will never let me know how much it hurts her to leave me and go home every day, but I know. She is always so happy to rush in and just touch me and talk to me every day. She stands with me and we look at each other for a long while. I always wonder what she thinks about. Adults are so strange. Kind of whiny. She just misses me so much. She waits for me to go to sleep before she leaves every day so I don't see her crying. I always peek though. My Mom and Dad are so strong for me. Mom goes home at night to write what I tell her too for my blog. They both get up extra early to go to work, come see me, go home to do chores and then stay up extra late at night to take care of life at home. They tell me a little bit about their days, sugar coating the tough stuff so they look happy and chipper for me and I am smart; so, I fill in the blanks. I know they struggle. Mom was trying to be funny and told me she ate cold Spaghetti-O's from Kwik Trip in the car on the way to see me today...I think that's kind of sad though. I wish I could go home. We are all doing the best we can right now though. Gotta' tough this out! I am tough.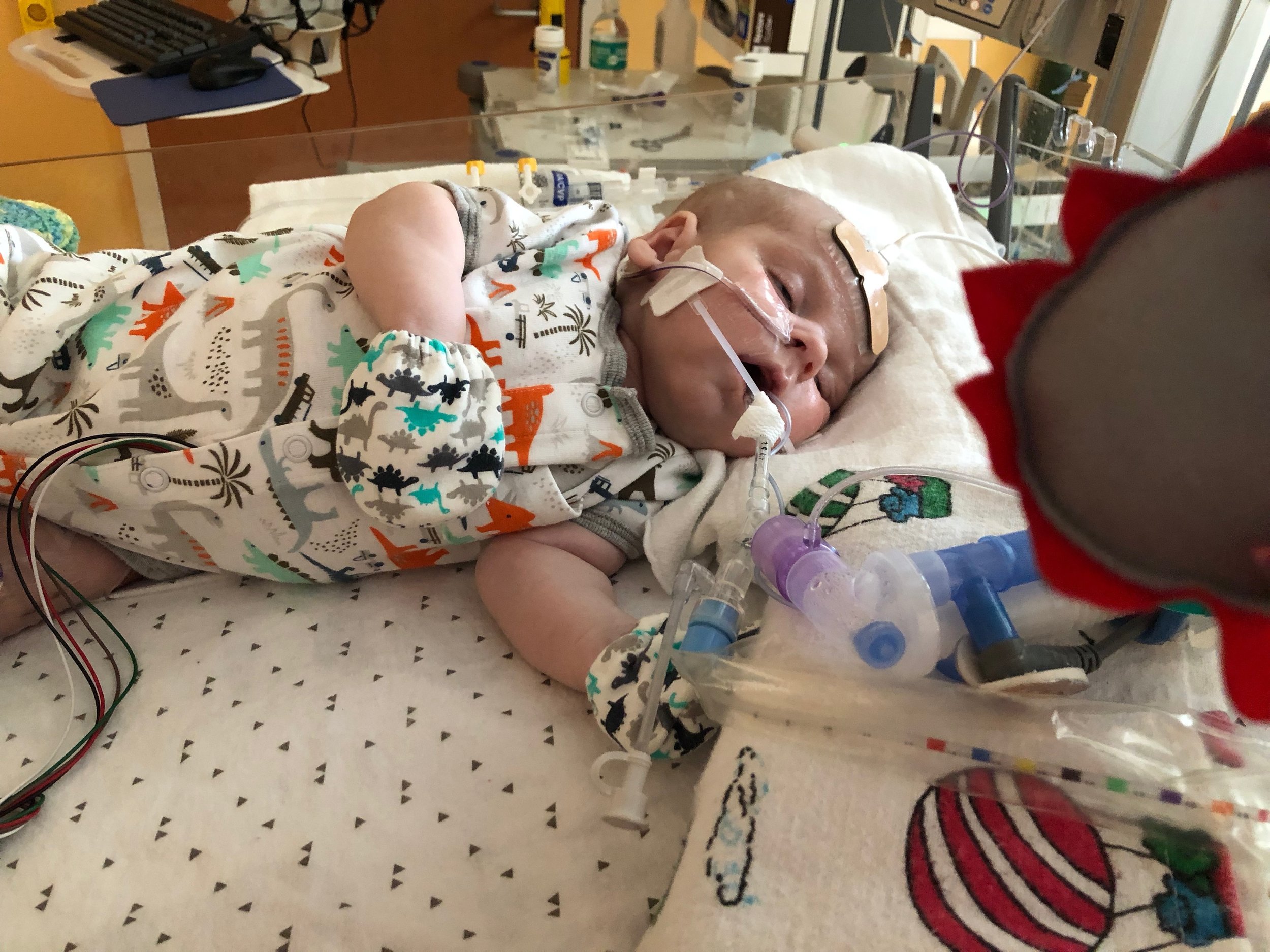 I had my first immunizations this week and feel like a big kid now. They didn't hurt, but I didn't like them either. I felt a little icky yesterday and today I had a low grade fever. My heart rate got a little high, too. We don't really know why that is? Some Tylenol brought them both back down, but we hope I don't have something wrong. I am in heart failure. So, even a little fever is pretty scary. I did pretty good today with my temper. Only had a little bit of Morphine to help me calm down about noon. I had a pretty good day besides that. I was dressed up in my dinosaur outfit and mittens. I like Dinosaurs. If any of my friends want to make me some dinosaurs for my special wall, I'd love that! I also got to snuggle a new blankey I was gifted from the Mauston Church. It was just right.
Mom hung printed and hung all your letters to me on my special wall today. The nurses can read them to me every day when I need prayers or to know people care. I really love being read to and the things you write to me are so special. I may just be little and I know I can't understand everything yet, but my family tells me that someday this will all be better and I will need to see these things on my tough days. That all of these memories we are recording here will mean a lot to me, keep me humble and help me...and maybe help people like me, too. So, thank you so so very much for surrounding me with your kind words and prayers...literally. It's a nice feeling. Please keep praying for me, my family and my someday donor's family. Hugs!