7/13/18 - Sir Smiley Pants
Today can be summed up in pictures for the most part:
As you can see, I wore clothes and had a wonderful day today. All smiles most of the day. I was smiling at my girlfriends. Smiling at the doctors. Smiling at my therapy friends. Smiling at a few people who stopped in to visit me. Smiling at Mom. All smiles. Real smiles...for what is the first time in my life, the smiles today didn't come from drugs. Not from Morphine or Adivan. Just smiles from me. Smiles from Heath. I think I have a nice smile. The best smile in the whole wide world my mommy says...
After a bunch of visiting, a snuggle session with Mom and a therapy session too, I took some time to play. My mobile critters were looking frisky and I batted them around. It was so much fun and made me giggle. I can spin them and they go really fast. My physical therapist saw me play and was so proud of me. She asked mom to bring in a play mat for me. I think it could be fun. I would love something new. I don't like to lay flat on my back though, so I'm not sure I would like it much? Maybe I can sit up in my Boppy under an arch of toys or something? We will come up with a kool idea. Laying flat just bugs my breathing because my vocal cords aren't in great shape right now. Anyhoo...I was fun to play. I'm learning so many new things lately. Now that I am off of sedatives, I can have a lot more fun. It's safe for me to play now and that is great.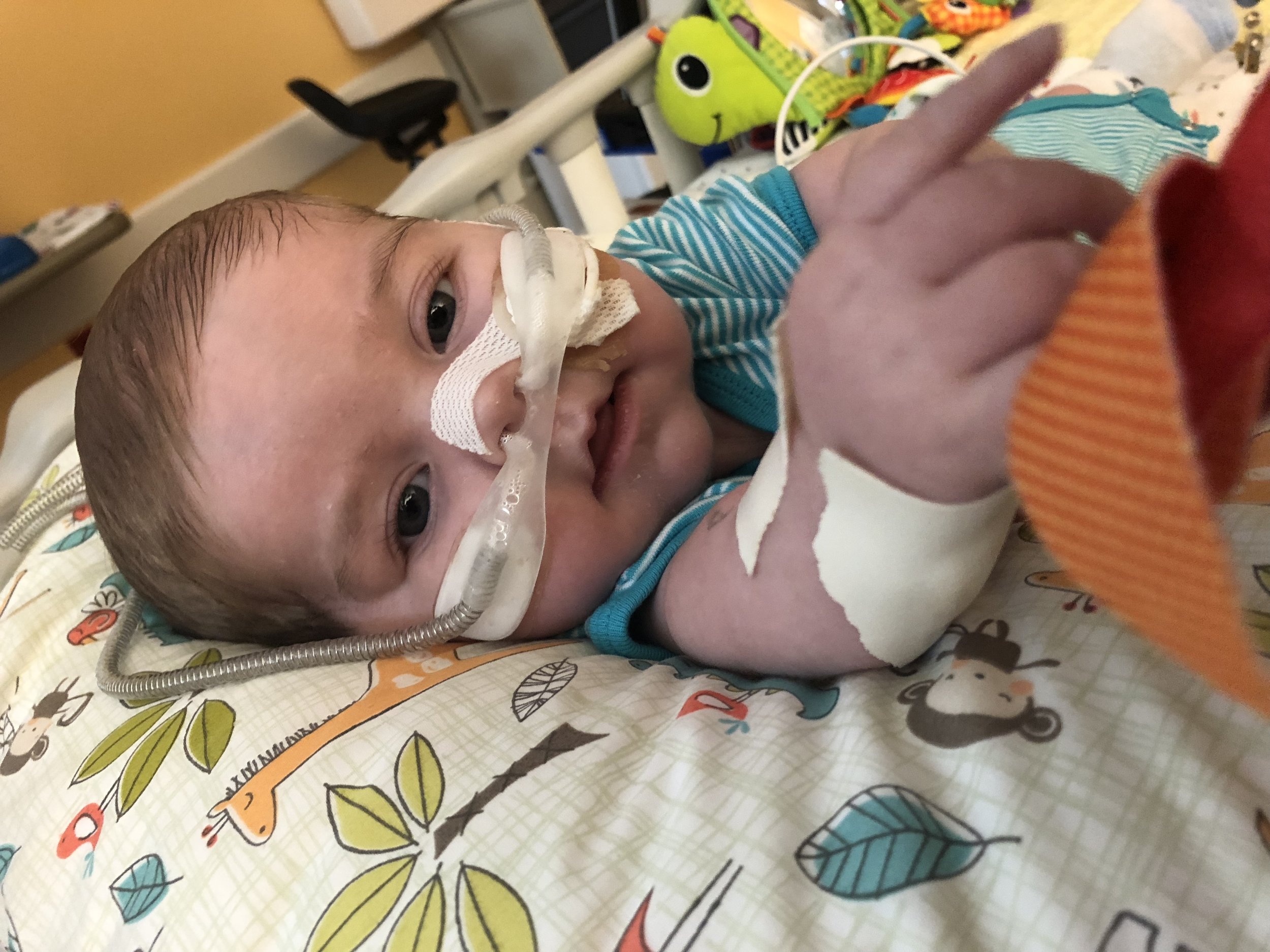 I'm actually off of all my heart medicines, all my other medicines almost, too! It's so wonderful and crazy! I have never, a day in my entire life, have been off of sedates, heart meds, etc... It's so hard to even fathom for my family. Crazy. Good though! I'm excited to start my life. Live a little off of drugs and semi-normal. Need my heart gift to come now. Come soon, while I'm feeling well. Come soon so my body is better after surgery because I go into my transplant day strong. Come soon to help me avoid the stroke risk that comes with my Berlin Heart. Come soon so my family can be together and so I can go home. I long for home. - Heath