7/6/18 - Re-Extubation
Today was a big day! A lot of things are happening very, very quickly in my life right now. The Berlin Heart LVAD seems to be doing the job, helping my heart work. I think we did do it during the correct timing in my transplant journey; while I was still stable-sick. We are watching the right side of my heart (the side the Berlin Heart LVAD doesn't help) to be sure it is keeping up with the new workload. So far, so good, but we are being cautious. I started the day off with all kinds of smiles today for my girlfriends. They loved it. I opened my mouth and smiled the nicest, biggest smiles I could muster. They ooo' and aw' at me. I love it. I had a lot of business to attend to today and had to get too it, so I took a quick nap to get them to go. First order of business after my nap was the chest drain tubes. The care team came into my room and after a few snips and slips, all three of them were removed. Three less tubes! Yay! They were no longer showing drainage anymore so, it wasn't necessary to leave them in. I seem to be healing well post surgery. In fact, my swelling has gone down significantly. I'm so thankful.
As you can see by the picture, I had more business to attend to after the chest tubes were removed. I went to OR and they removed my NG and put the NJ (the feeding tube that goes thru my tummy, strait to my small intestine) back in. The care team wants to help decrease the chance of aspiration by doing feeds via NJ instead of NG. My right vocal cord is damaged from my medical journey and it poses a risk of aspiration if I were to urp up my feed at any point. Better safe than sorry, so they went ahead and got that done. I had to go to the OR because when they normally place an NJ tube, they use a magnet and machine to make sure the tube goes to the correct place, but with all my dressings from my big surgery, it wasn't going to work out. In the OR, they could use an XRay-like machine to check to see where the NJ tube was sitting. It seemed to all work out well. Starting feeds this evening and am so thrilled!
You may also notice, after the NJ was placed, not only did I get my big-boy-bed back but, I also got myself extubated and I am very happy about it! No more annoying, uncomfortable, infection holding ventilator tube in my nose! I'm able to be re-extubated, now, because the Berlin Heart LVAD has been supplying my body with the the blood supply it is supposed to be getting..ie:my lungs. So, I should be able to do the work of breathing on my own. If all goes well, I'll get stronger at it, too. Right now, it's a little rough, but I can do it. My throat is a little sore, my voice raspy...but, with time I should be able to cry again, my vocal cord will hopefully heal on its own without surgical help and I'll continue to improve overall. If you want a good laugh, imagine me with a duck voice and hiccups today 😂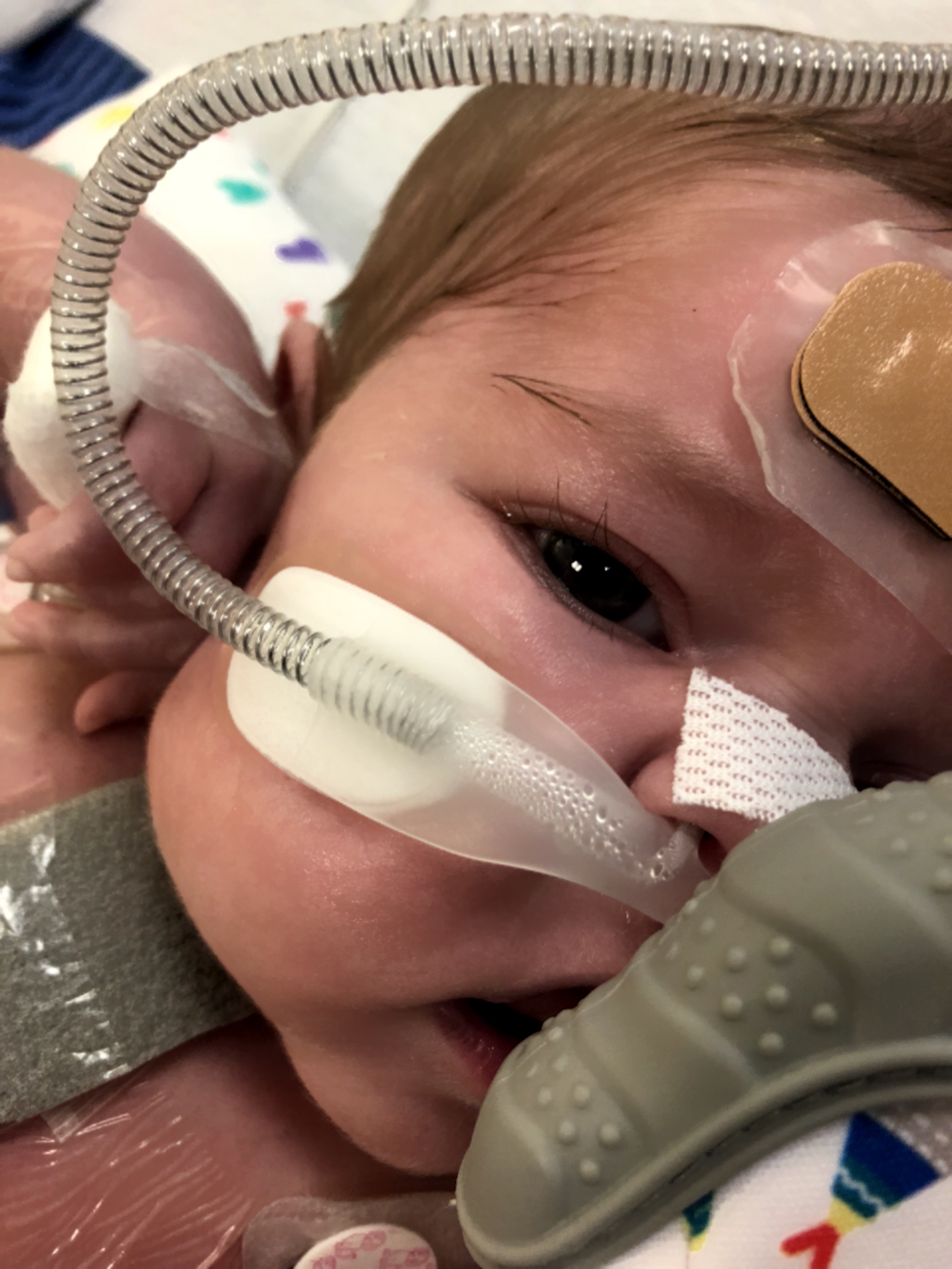 Over the last couple days, I've been trying to eat the IV on my left hand. I get it up to my face and put it in my mouth. So, my girlfriends kept putting a bean bag on my hand so I wouldn't keep doing it. Today, Mom put a teething mitten over my hand and the IV. The mitten is big on me, which makes it perfect for going over everything. I think I like it? I spent a good amount of time today licking the bumps on the ridged end of the mitten. They thought I was funny. I was serious about it though. It was new and I had to check it out. So, anyhoo, I enjoyed the new mitten and the tube changes today. I had such a pleasant day. Partly, because they have weaned so much medication off me, too. No more Epinephrine and down on the Milrinone, diuretics and sedatives. It's making me feel so much better. I pray this up-trend continues and that nothing bad happens. My family has never had anything go "well" when it's come to my health and they are proud and happy for me, but very cautious to celebrate. I still need my heart gift to come very soon. Please keep praying for that, for me, please. Pray for me, my family and my someday donors family. Thank you for all the sweet messages that have kept me strong this week. Hugs! -Heath